Mindful Eating & Weight Management Services: Helping You To Improve Your Relationship With Food
I offer several services including one-to-one sessions, a short online course, a range of talks and an online support group.
One-To-One Sessions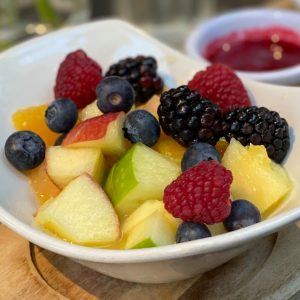 If you want to improve your relationship with food, feel more in charge of your eating, set up and maintain long-term healthy eating habits or lose weight, I offer personalised one-to-one sessions. For more information about how I work with clients please go to 'Individual Consultations'. Read reviews HERE.
Clients can choose their own number of sessions and can opt for weekly or fortnightly sessions, depending on individual needs and budget. If clients choose to see me ongoing for multiple sessions, they have the option of reducing session frequency. For example, they might start off with weekly or fortnightly sessions but further down the line they might choose to see me for reviews once a month or every 6-8 weeks. I offer flexibility depending on individual needs and budget.
From my experience of working with clients, several sessions over time is much more effective than just one or two sessions in a short period, as building new and sustainable habits can take time. Consistency is key, and so regular sessions over a few months are a great opportunity for clients to receive ongoing support which can help maintain motivation, develop and consolidate skills and enable us to re-visit any particular challenges they might be facing. For this reason, I recommend a minimum of 6 sessions.
Initial session (90 minutes): £65
Subsequent sessions (60 minutes): £50
SPECIAL OFFER: Buy 3 sessions up front, get a 4th session FREE! Contact me for details.
Talks And Workshops
To purchase tickets for my next online talk 'How To Tackle Emotional Eating' (5th July 2022) click HERE.
I give talks on a range of topics online and in Lightwater, Surrey. Topics include: 'How To Tackle Emotional Eating', '10 Tips To Lose Weight Without Dieting', 'Food & Mood', 'Healthy Eating For Hectic Lives', 'Personality & Eating Habits' and 'Good Fats, Bad Fats'. I can also give talks and run half day or full day workshops at a variety of organisations and venues on request. See 'Mindful Eating Workshops'.
"Emma's talks are excellent- very thought-provoking and empowering. Emma is so welcoming and leads really useful, comfortable and directed sessions that encourage openness in a safe environment. I've come away from Emma's talks feeling encouraged, empowered, inspired, hopeful and confident to try some new solutions. I highly recommend her talks!".
'Improve Your Relationship With Food': Short 4-Module Online Course (Fortnightly Sessions)
This online course has been designed for anyone who would like to improve their relationship with food to help them make better food choices, address overeating and achieve long-term healthy eating habits. It is an introductory course, but also works well as a useful 'refresher' for anyone who has previously attended any of my talks, support groups or completed one-to-one sessions with me. For more information click HERE.
Online Support Group (Fortnightly Sessions)
A small, friendly support group for anyone interested in discussing eating habits, weight management and nutrition, and wanting an opportunity to explore and improve their relationship with food with others.
For more information click HERE.
If you have any questions or require more information about my mindful eating and weight management services, please don't hesitate to give me a call (Emma Randall) on 07961 423120 or email me:
info@mindfuleating.org.uk
Follow me on Instagram.
For more information and tips see my blogs.