Mindful Eating Workshops And Talks
"I was very impressed by Emma's in-depth understanding of emotional eating issues. Emma had some sound advice for us all and it was tailored to our own unique circumstances. Emma's obvious understanding of nutrition plus the psychology of overeating made the talk very informative and interesting."

 
Since 2008 I've been giving talks and running groups to people of all ages at a range of organisations, corporate companies, schools, colleges, senior citizen groups, drop-in centres and depression support groups. I have worked as a trainer at a weight loss company, creating and delivering nutrition modules to weight loss consultants. My talks are normally 60 minutes but I can also run half or full day workshops or mindful eating group sessions at organisations on request and in various geographical locations.
I give several talks covering a range of subjects all year round in Lightwater Surrey and online. PLEASE NOTE: Due to Covid, all of my talks are currently online until further notice.
In addition to my talks, I run a short online course three times per year 'Improve Your Relationship With Food' and a monthly online support group.
My talks are really useful for anyone who:-
~ Struggles to control their eating and their weight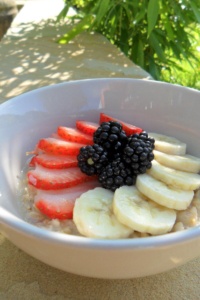 ~ Wants to develop a healthier relationship with food
~ Is interested in both the psychology of eating and nutrition, and is seeking advice to support mental and physical health
~ Has had enough of diets and is seeking a fresh approach to help them feel more in charge of their eating
~ Is in need of some inspiration to kick-start them into eating in a more healthy, balanced way
~ Is interested in learning about the physiology (food, appetite and the body).
My talk topics include:-
 'Understanding Emotional Eating'
 'How To Tackle Overeating'
 'The Hormone Factor: Understanding & Tackling Obesity'
 'Healthy Eating For Hectic Lives'
 'Food & Mood'
 Other talks I've previously run and can offer on request: 'Personality & Eating Habits', 'Good Fats, Bad Fats'.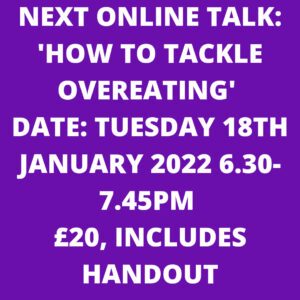 Cost: £20 (75 minutes). Includes handout.
Click here to purchase tickets for any of my events via Eventbrite.
Click here to see reviews about my talks. Please see below for a summary of each talk.
'Understanding Emotional Eating'
"'Understanding Emotional Eating' was a really positive session with Emma – I very much enjoyed the opportunity to learn from her extensive experience and to meet others that are going through the same struggles".
~ Overeating? Secret eating? Do you have go-to 'binge foods'? Do you swing between extremes of restrictive eating and overeating? Feeling out of control of food?
Emotional eating is about eating for reasons other than physical hunger, and many people say they're 'comfort eaters'.
Our relationship with food can be quite complex, and requires some attention if a person wants to stop binge eating, swinging between restrictive eating and overeating, achieve a more balanced way of eating and a better relationship with food.
In this talk I cover some of the key aspects of emotional eating, how to recognise it and what to do about it. The talk provides really useful information for anyone who feels they're an emotional eater. The talk includes:-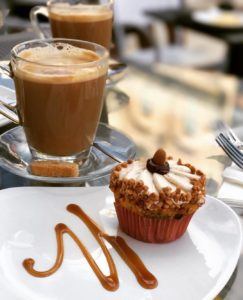 ~ Common causes and triggers of emotional eating and compulsive overeating
~ How childhood might positively or negatively impact a person's relationship with food
~ How eating can be influenced by how we deal with feelings
~ The role of unmet needs in emotional eating
~ The role personality can play in emotional eating
~ The links between self-concept, lifestyle management and eating habits.
The aim of the talk is to help individuals identify which particular factors might be driving their own emotional eating, and give them some tools to start being more in charge of food.
"Emma led a very useful, comfortable, directed session that encouraged openness in a safe environment. I left feeling encouraged, empowered, provoked into thought, confident to try some new solutions, but also felt that all was not lost and hopeless."
'How To Tackle Overeating'