Weight Loss Support: One-to-One Sessions
~ Do you feel out of control of your eating?
~ Do you want to improve your relationship with food?
~ Would you like to set up and maintain healthier eating habits?
~ Perhaps you've had enough of diets, and you need a fresh approach to help you feel more in charge of your eating
~ Would you benefit from personalised one-to-one support?
If you want to develop a healthier relationship with food, feel more in charge of your eating or put an end to yo-yo dieting, it's vital that you invest in yourself. It's also important to wipe the slate clean, to take off the old diet hat that may have caused self-limiting beliefs to develop as you've watched yourself fail diet after diet. That said, it's also important to remember that it's not actually you failing at the diet, but the diet failing you! By wiping the slate clean you're also aiming to put behind you your memories of an ongoing cycle of weight loss and weight gain. If you focus on addressing your underlying eating habits, weight loss can be a positive by-product. I help to empower individuals by teaching them knowledge and skills, and encouraging them to go on a journey of self-discovery to obtain insight. Awareness is power, and it's through awareness and being prepared to go within and embrace new ways of thinking that positive change can happen. We're all different, so we all need a personalised, tailor-made approach.
My one-to-one weight loss support service (face-to-face or online) is for people who are looking for personalised, one-to-one sessions. The sessions focus very much on individual client needs. They can focus on the psychological factors associated with your eating patterns (such as emotional eating), enabling us to create strategies to help you adopt a healthier relationship with food, or they can focus more on your actual diet, where we might discuss nutritional aspects and work together on creating personalised meal plans with specific meal and snack ideas.  Therefore, the sessions might focus more on psychological aspects or more on the nutritional aspects, or they might address a mixture of the two. To read more about how I work with clients, click HERE.
Working together, we will explore and identify any current barriers to weight loss that could be playing a role in your eating and relationship with food, and come up with some strategies to help you. We will also address any unhelpful attitudes, beliefs and thought patterns and help you to find a more flexible, 'middle-way' approach.
Flexibility of Sessions
To receive the full benefit, it is recommended (but not compulsory) that clients attending one-to-one sessions complete a minimum of four sessions (taken weekly, fortnightly or monthly)- this is because implementing new eating / lifestyle habits can take time, and clients benefit from ongoing support and regular reviews of their progress.  The number of sessions required will also depend very much on individual needs and preferences.
If clients choose to see me ongoing for multiple sessions, they have the option of reducing session frequency. For example, they might start off with weekly or fortnightly sessions, but further down the line they might choose to see me for reviews or 'check-ins' once a month or once every 6-8 weeks.
From my experience of working with clients, several sessions over time is much more effective than just one or two sessions over a short period, as building new and sustainable habits can take time. Regular sessions over a few months offer the client a great opportunity to receive ongoing support, develop and consolidate skills and knowledge, maintain motivation and re-visit or 'tweak' strategies for any particular challenges they might be facing.
I offer text/Whatsapp/email support as part of the service between sessions to help keep clients motivated, supported and focused.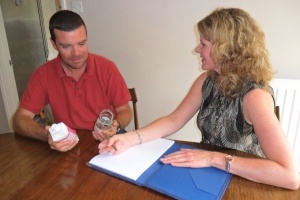 Initial session (90 minutes): £60 (if session at your home, or Skype); £55 (Lightwater-based session)
Subsequent Sessions (60 minutes): £45 (sessions at your home, or Skype); £40 (Lightwater-based sessions)
SPECIAL OFFER: Buy 3 sessions upfront, get a 4th session free! Contact me for details.
Location: Consultations can take place at the client's home or at my own home (Lightwater, Surrey). For clients who live further afield, I offer convenient online sessions.
When: Weekday morning, afternoon, evening and Saturday daytime appointments are available.
Payment Options: cash, cheque or BACS.
I also offer one-to-one sessions for individuals who have lost weight through any diet plan and are now seeking help to achieve long-term weight maintenance. Please see 'Weight Maintenance Support'.
If you'd like more information about my weight loss support sessions, give me a call (Emma Randall) on 07961 423120 or email me: info@mindfuleating.org.uk

Click HERE to purchase tickets for any of my events via Eventbrite.
For tips, information and advice see my blogs.
I also provide short video tips and advice on my YouTube channel.
Save
Save
Save
Save
Save
Save
Save
Save
Save