Gradual Weight Loss With Mindful Eating: My Weight Loss Journey
Final Entry: Wednesday 20th December (for the first 5 entries click here)
I achieved my mindful eating weight loss task of losing 10 pounds since September!  I started at 10 stone 5 (15th September) and am now 9 stone 8.5 pounds, so a gradual weight loss of 10.5 pounds in total.
This gradual weight loss has involved no dieting whatsoever, just mindful, generally vigilant eating. For many people, losing weight means going on a diet, which involves a good deal of restriction (especially if their aim is to lose weight quickly); it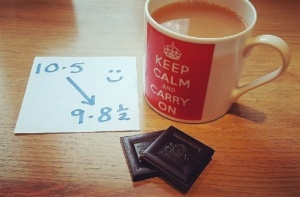 might also involve 'good' (allowed) and 'bad' (forbidden) foods, calorie counting, avoiding alcohol, and significantly cutting back on their usual food intake. I guess that because my diet is generally pretty healthy there wasn't huge room for improvement- but my diet also isn't perfect and I don't strive to be perfect! In contrast to the experience of being on a typical diet, I haven't felt restricted because I haven't given myself lots of diet rules to follow; no food has been forbidden, so if I've really wanted something I've gone ahead whilst considering hunger levels and portion size. I certainly don't count calories in terms of having a daily allowance, but I do look at calories on labels out of interest, to see how many a particular food has before I decide to buy it. I get quite irritated by the fact that food manufacturers produce such volumes of very calorie-dense foods. My portions have always been generally appropriate for someone of my gender, size and activity levels, but there is always a bit of portion 'tweaking' we can all do.
Calorie 'Shaving' Rather Than Dieting
Calorie shaving works well for me. An example is last week- with it being Christmas, someone in my house had bought mince pies, which I can take or leave to be honest, but as it was a 'deluxe' version I decided to try one. However, I cut one in half and ate only half- this was enough to satisfy my curiosity and I didn't want or need any more- and there was no guilt! Guilt can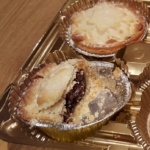 happen when a person is on a restrictive diet but goes ahead and eats something 'naughty'- with calorie shaving you can still have a bit of what you fancy but savour a smaller amount of it. In the process I shaved 105 calories, ie I ate only 105 instead of 210 calories. If we can do a bit of calorie shaving each day it's surprising how quickly the number of calories NOT eaten adds up, which can be very motivating- yet at the same time you're not depriving yourself of foods you want to eat. It's important to feel relaxed around food, and to not feel guilty for eating something. It's also helpful if you can be in the habit of being more selective with food, so eating what really appeals to you and passing on the rest. We all have times where we overindulge, but it's important not to beat yourself about it and to get back on track. Going back twenty years I used to be very 'black and white' in my approach to eating, that is, I was either being 'good' and on a diet (which didn't last long!), or doing the opposite and eating quite mindlessly. I was also at least 3 stone heavier than I am now.
Give Yourself Enough Time To Reach Your Goal Weight
I think it makes a difference when you tell people you aim to lose weight in a certain time frame. Especially for me, considering my job is a weight management consultant! In some respects, broadcasting your weight loss goal might make you feel under pressure and feel like giving up if you don't think you're up to it, but in other ways it can help you to stay focused. If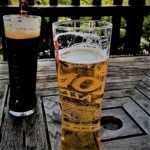 you have a weight loss goal then it's important to make sure you give yourself enough time- it has to be a realistic time frame, and my 10 pound goal starting in mid September and ending at Christmas was nice and slow and enabled me to lose weight gradually whilst enjoying flexible eating and drinking. I have continued to enjoy beer and red wine on a weekly basis with just 2-4 alcohol-free days, depending on my social calendar.  My eating isn't very low carb but it's also not high carb, so I'm able to incorporate alcohol and find that balance. The measuring jug of red wine midweek has been an excellent tool as it helped me to savour the glass I had- when you know it's all you're going to have you do drink it much more slowly. And it's still enjoyable! And you can decide whether to make it a small, medium or large glass. I'm usually moderately active, and I haven't increased my activity, so calorie shaving (ie watching portions and leaving some food on the plate if it's a large portion, as well as cutting down a bit on alcohol midweek) and thinking before I eat along with staying at my usual activity levels has worked well and enabled gradual weight loss. Depending on social events and holidays, weight loss has inevitably varied from week to week, but as long as it balances out in the end you can reach your goal.
Don't Put Pressure On Yourself
Many people are impatient to lose weight, but this can be your downfall. If you do it slowly you take pressure off yourself and you can afford to be a more flexible eater (and drinker!), as I've demonstrated. A client of mine has also successfully lost weight with my support. She enjoys several gins every evening, and chose to stick to it because she enjoys it and it helps her to relax, but by focusing on improving the quality and amount of food she eats she has still managed to achieve gradual weight loss (one stone) without cutting out her tipple. When I advise clients, I don't expect them to cut out things they enjoy, because sooner or later they will only re-introduce them. Enjoyment is key, whilst also considering nutritious options as often as you possibly can. Cutting down on, not cutting out, is much more likely to help you enjoy and maintain your weight loss journey so that you get to your goal, and once you reach your goal, the idea is that you've settled on a way of eating that works for you, for life.
Aim For A Weight Goal That Is Possible To Maintain
I could consider losing just a few more pounds in the coming months because I, like so many people successfully losing weight, often feel they could lose just a bit more (especially in today's weight-conscious society). However, it's important to know when to stop, important to get to a weight your body is happy with, and to a weight at which you can continue to enjoy a way of eating that suits you. If you lose too much weight then inevitably you will need to eat considerably less in order to maintain that weight. So now my goal is to maintain the weight I have lost. And I have a better chance of doing it than if I'd lost it rapidly through a quick-fix diet. Ditching the dieting mentality and striving for gradual weight loss with flexible eating is such a better option, in my opinion!
Entry 8: Saturday 2nd December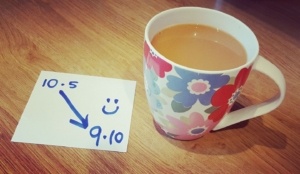 Enjoying my morning cuppa and wanted to share that the 'walk my talk' task since mid September has been to lose 10 pounds WITHOUT dieting, just mindful eating, by end of December. So far I have lost 9 pounds, so I've achieved 90% of my goal. I haven't cut out my lovely beer and red wine, I'm being as active as possible (which is no more than usual really); I'm watching (fine-tuning) portions (calorie-'shaving'), thinking before I eat, and I'm generally opting for healthier options as I normally do, BUT no foods are forbidden. So I'm well on target! When it's slower, steady, gradual weight loss, you can opt for enjoyable, flexible eating- what could be better?

Entry 7: Friday 17th November
Since starting my mindful eating weight loss challenge in September, I have lost 7.5 pounds. I'm achieving this gradual weight loss through flexible, mindful eating, and being as active as possible. I'm not highly active, but I could consider myself moderately active (3-4 quite vigorous sessions of activity per week)- this includes running, cycling, walking, Pilates and yoga. Since Wednesday I have decided to take a break from running- I have always had a dodgy right knee since I was 13 (I think it was caused by horse riding), so I have to be mindful of my knee. I was actually only doing a slow jog on Wednesday and I got a sharp pain in my knee- it's not felt quite right since so I'll have to give the jogging a break for now- as much as I love it! Yesterday I went into Camberley- I always welcome the walk into town (I welcome any opportunity to walk- in addition, I have the type of back that needs to keep moving, according to my chiropractor!). I always park the car in a road that involves a 10-15 minute walk (I never use the town car park due to my preference to walk), and I was carrying some ice cubes and frozen berries which were quite heavy. I was thinking that if I ever can't run long-term due to my knee, then apart from cycling (and perhaps spinning at the gym if I decide to resume it after several years), I could always load up a couple of bags and walk briskly with them to burn some extra energy! Or perhaps just a fairly heavy rucksack on my back! My Tuesday yoga class has been changed to Pilates, and this week was my second session- I really enjoyed it and I felt a lot hotter compared to when I do yoga, which is great (I will still do Thursday evening yoga class as I enjoy yoga).
I'm Not On A Diet
I really don't feel I'm on a diet, and that's because I'm not! I'm not having to radically change anything about my usual diet and lifestyle- perhaps I could say I am just 'fine-tuning' it a bit. But with just some fine-tuning the great news is that I'm able to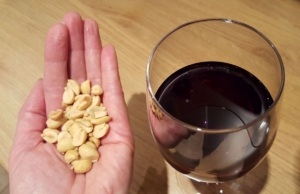 achieve gradual weight loss. I still enjoy alcohol (beer and wine) mainly at weekends, and I'm still using the measuring jug to measure out a glass of wine in the week if I fancy it- this is a really good tactic as I savour what I have and don't pour a second glass. What I eat varies according to where I am, and who is cooking it, but my main focus is on eating only when I'm hungry, eating good quality food for the majority of the time, and being mindful of portions (if I decide to eat an indulgent snack with a coffee when I'm out or if I'm in a restaurant and have a dessert then I might share it). It's really important to not allow others to overly influence your food decisions. This gradual weight loss I'm achieving is not feeling like a challenge at all- I guess over the years I have gained some pretty good mindful eating skills. My goal is to inspire as many other people as possible to escape the diet trap by helping them to instead focus on becoming more mindful eaters.
Quiz Night Tonight: Lasagne, Profiteroles And Beer
Tonight I'm going to a quiz night, where a meal is being prepared for us- I will be having a few beers (or maybe wine, depending on what's on offer), and the menu is lasagne and profiteroles! As I am not on a strict diet, I will enjoy tonight's food and drink without feeling I'm eating something 'bad'. That's the benefit of slower, more gradual weight loss- you can afford to eat in a flexible way- what could be better! When losing weight, it's SO important that we don't feel restricted or deprived, and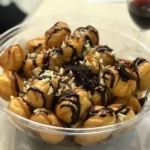 that we enjoy our food. On Wednesday I went round a friend's to watch a film. She hadn't eaten an evening meal and instead grabbed herself a bowl of toffee popcorn to eat during the film. She automatically gave me a dish without asking me, but as I wasn't hungry (I'd had a meal beforehand) I left it on the kitchen unit. As much as I love popcorn, it helped that the bowl wasn't sitting right next to me (proximity of food is key!), otherwise it might have been tempted to graze on it. A bit later on though, I fancied a bit of popcorn with my glass of wine and mindfully ate just a small handful- just the taste of that handful was satisfying (admittedly it would have been incredibly easy to eat the lot!), but after the handful I didn't feel a pull towards the popcorn for the rest of the evening- my mind was on the film. I had brought the bowl over, thinking that my friend would eat more (after she'd eaten her bowl), but she didn't eat any more, so I got up and took the bowl back to the kitchen- out of sight, out of mind! So many foods are calorie-dense, or just really high in sugar, and often all we fancy is a mouthful or two. Just because a food is available it doesn't mean we have to eat the whole lot- though many people do, as they have a tendency to eat on 'autopilot' with little thought about what and how much they're eating.
Balancing Food Enjoyment With A Thoughtful Way Of Eating
The skill is to balance eating a range of foods with being vigilent and thoughtful about what you're eating, considering your options (if faced with several choices) and planning in advance what you plan to eat (or not eat, if that's a helpful strategy as long as it's not too restrictive). Having ample food choices at home (ie stocking up) and some planned meals is also key, whilst having a repertoire in your head of healthy but simple and quick meals so that you don't have to keep thinking about what to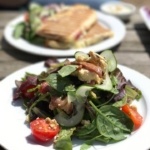 eat and so that you don't feel put off by cooking if you want to spend as little time as possible doing it, which is the case for a lot of people. I'm good at planning, and have a mental checklist in my head about specific meals (it's quite repetitive midweek but then I vary it more at weekends when I have more time) and how much I need to buy, depending on how many meals in I will be eating that week (so that I don't waste fresh vegetables). Planning really is an important aspect of weight loss and long-term weight management. I strongly believe that if more people could really strive for a 'think before you eat' approach, there would be less reliance on weight loss diets. Many people rely on following a specific diet because they feel they can't control their weight unless they're on a diet, and following someone else's rules about what and how much to eat; they're also impatient to lose, as quickly as possible, a certain amount of weight in a certain amount of time, but mindful eating practices can help us to relax around food, feel less guilty when we make certain food choices, make better food choices overall, enable gradual weight loss, and provide long-term weight management success.
Entry 6: Friday 3rd November
I am on target! I currently weigh 9 stone 13, having started at 10 stone 5 in September. My goal is a gradual weight loss of 10 pounds through mindful eating, not dieting, losing approximately half to one pound per week. Overall it's been a reasonably sociable two weeks, which has involved alcohol and several meals out, including four days away with family and a birthday.
Alcohol: Not Off Limits With Gradual Weight Loss
I have found measuring out a glass of wine really effective at helping me to control my wine consumption during weekday evenings, on days I'm at home. The good thing is that I can choose to have a large, medium or small measure and then I just stick to that one glass, which is easily done by sipping. I'm finding this is a really good midweek tactic.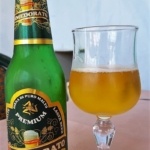 It's amazing how location can determine our eating and drinking habits. I normally spend weekends in London, but one weekend I didn't- in London I drink beer as an aperitif, usually both nights of the weekend, but because I was at home that weekend, and I had also had a rather social Friday night with several beers out in a pub, I decided not to drink beer for the rest of the weekend and just measured out a glass of red wine. I also wanted to get on with some tasks on the desktop, so I didn't have the incentive to drink more than a glass so that I could fully concentrate on what I was doing. In London my beer drinking is always based around watching films, so it was unusual for me not to have beer during a weekend. As I've mentioned before, I do enjoy my alcohol, and the great thing about gradual weight loss is that you don't have to cut out alcohol entirely or severely restrict it, particularly if you do a good job of eating mindfully too.
Calorie 'Shaving': A Key Aspect Of Gradual Weight Loss
At weekends I am now in the habit of not automatically having my two squares of dark chocolate after dinner- I will just have it if I fancy it. We normally continue on the red wine after meals at weekends, which is accompanied by a taste of something sweet.  It had become a habit at weekends, but now I'm not doing it all the time. It's easy to underestimate mouthfuls not eaten, but if you shave off a few calories here and there, it soon really adds up over the course of a week in terms of calories not consumed. With calorie shaving you can also eat a bit of what you fancy without feeling you're overdoing it (like sharing a dessert).
As I normally eat with someone else at weekends, we end up having meals containing potatoes, rice or pasta (which I don't midweek), but because I was at home on my own that weekend  I kept it low carb and had cauliflower rice- it's a great way to reduce carb and calorie consumption, and is a good source of fibre whilst helping to bulk out a curry like rice would. I was also mindful of the amount of chicken curry I served myself, enabling me to keep some for a future meal.
Meals Out
One day I took my mum out for a day trip and we had two courses  for lunch- it was a belated birthday treat for her and it would have been easy to have dessert, but it helped that she was full and couldn't manage one, and I felt quite full too so we both just had a black coffee to round off the meal. I think it's so easy for many of us to be influenced by how many courses the people with us are eating, and to follow suit. I also find that in many restaurants the desserts are quite bulky and just too filling after a starter and a main. In the evening at home I didn't feel like a meal so I just had some goat's yogurt with chopped fruit. The restaurant gave us a large quantity of lovely bread and butter when we arrived, which my mum ate several slices of as she found it so delicious; she later said that the bread had caused her to be extra full (hence she didn't have a dessert). I enjoyed just one delicious slice, even though I could have easily eaten several more, but decided that it would not be a good move with a meal about to be served! As a child I adored white bread and butter, so the temptation was there.
A Few Days Away
On the way to our B&B we stopped at a pub for lunch. One of the options was a sausage sandwich and chips, which Rob had, but I knew we would be eating out that night and so I wanted a lighter lunch. I also knew that the next few days might involve some wheat-based items such as bread, cakes and desserts (and too much wheat, ie eating it several times a day for several consecutive days causes me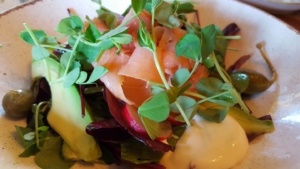 some water retention and bloating), so to avoid bread I opted for an avocado and salmon salad which was tasty. I also like to keep up my intake of 'good' fats. No alcohol as I was driving, but I prefer to enjoy alcohol in the evening anyway. I'm pretty good at thinking ahead to my evening meal when deciding what, and how much, to eat during the day. I really don't enjoy eating an evening meal when I'm still full from lunch!
Day Of Arrival
We popped into a town before finally getting to the B&B and fancied a coffee- Rob chose an amazing-looking orange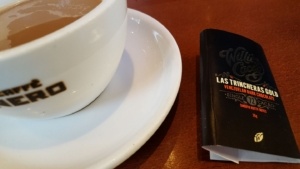 cheesecake but I had a small bar of dark chocolate as my afternoon snack- it's great that cafes sell these as well as cakes and pastries. A small bar of dark chocolate was perfect as not only was it a wheat-free option but I find dark chocolate satisfying. On arrival at the B&B a bit later, the owner offered us tea and coffee and had made us a homemade chocolate cake! So we all enjoyed a slice- and why not! I think that it's important to enjoy a food if it's a one-off- and it's not every day you go to a beautiful B&B and are offered a lovely slice of homemade cake at the same time! We enjoyed a steak night in a restaurant that night, but having had the chocolate cake in the afternoon I opted out of dessert.
Not Going With The Crowd
The next day we went for a walk. We had had a cooked breakfast and we stopped for coffee mid morning. The other three had a snack but I wasn't hungry so I just had coffee. With a cooked breakfast I tend to skip lunch and then have a snack at around 4pm, when I start getting hungry.  I enjoyed a couple of scoops of ice cream in the afternoon, which kept me going until dinner.
An Alcohol-Fueled Decision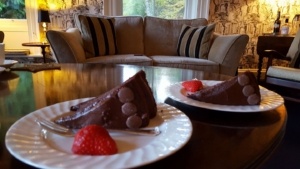 The next night we found a restaurant that was offering second, free, desserts! The restaurant had a traditional dessert trolly, so you could see the desserts throughout the evening. We had enjoyed a few drinks by that point, and whilst the chaps had just one dessert, we two girls went a bit silly and had two desserts! That certainly wasn't calorie shaving- alcohol can skew judgement and cause us to make spontaneous decisions! One way of looking at it is that it was a complete one-off to be offered a second dessert free of charge. That has to be a good thing though, as how often do many of us go for something if it's free! I will add that the following night we two shared a dessert! With mindful eating gradual weight loss it's very much about making adjustments here and there to balance your overall energy intake over the course of a week. As this was just a few days away I gave myself a bit of leeway, and I knew I would be getting back on track at the end of the trip.
The Temptation Of More Free Food
The B&B stocked each room with a variety of chocolate bars and biscuits (as well as a decanter of sherry!). I decided to take a two finger KitKat for an afternoon snack, but despite enjoying these as a teenager I gave the second finger to Rob and got a few squares of dark chocolate out of my weekend bag. I know that eating a sugary snack like a chocolate bar just doesn't keep me going and can have me reaching for more food soon afterwards. I always carry snacks like dark choc and oatcakes with me when I'm travelling, so that I have something healthy if I get hungry between meals.
A Dinner Party
We are doing a dinner party for the neighbours tonight. There will be two of us cooking and I have chosen to make a watermelon, feta cheese and proscuitto-based starter. There will be three courses, but as there are normally at least a couple of desserts on offer I'm not planning to eat more than one portion of dessert even if others do, though I might have a small portion of each dessert if I fancy trying all that's on offer. I'm aiming to keep beer consumption low and sip red wine- as I'll be sitting at a dinner table I won't be using the measuring jug to monitor my intake. I'm also going out in London for birthday drinks tomorrow for a friend's birthday (six of us), and I will be drinking beer in the pub and having wine with my meal, so I will pace myself with the alcohol tonight. I do find that planning in advance roughly what I will eat and drink, when I think I need to, can be really helpful.
Activity
I'd like to get a bit more active as part of my gradual weight loss journey. Due to injury I stopped doing Park Run (5k on Saturdays) several months back, but I'm still able to do a couple of gentle jogs a couple of times a week. I also go out on my bike occasionally, though not as often as I'd like to. Yesterday I went out for a brisk 40 minute walk and did Pilates on Tuesday night (it used to be yoga but it's been changed to Pilates)- my stomach muscles and obliques have been sore the last couple of days which just shows how I could do with a bit of toning up! I will now be doing this every week, so I think I will definitely tone up.  I used to do Spinning at my gym about five years ago and am planning to resume it next week as they have significantly increased the number of classes available.
Occasionally Indulging Without Going Over The Top
If you're aiming for gradual weight loss, as long as you get back on track it's fine to indulge from time to time. However, if you can also be a bit more mindful, you can get into the habit of indulging without always going over the top. I feel that being mindful and considering my food options carefully most of the time has become a really good skill which I can use for life. I think about the consequences of what I eat a lot more than I used to, when I was about three stone heavier (over twenty years ago). That's what mindful eating is- you don't have to be on a diet, just more vigilant and more selective, and not eating food simply because it's in front of you but because you really want to eat it, and then passing on the rest. Some people are impatient to lose a lot of weight quickly, but with gradual weight loss you have a much better chance of keeping off the weight long-term.
Flexible, Mindful Eating For Gradual Weight Loss
Flexible, mindful eating is about not seeing social events as roadblocks and thus an excuse to put off that diet until after the event, but as events to enjoy, whilst putting some thought and consideration into what you're eating and drinking. The advantage of aiming for gradual weight loss rather than doing a 'quick-fix' diet is that it gives you a bit of leeway to enjoy food and drink socially. This approach is far from the perfectionistic style of dieting, where you try to rigidly follow diet rules about what to eat and drink, have forbidden foods and severely restrict your intake- in my view this is completely unenjoyable and unsustainable. I don't beat myself up if I overindulge (like the two desserts in the restaurant scenario)- I just get back on track. I don't actually feel good if I overeat, or overeat foods that my body doesn't deal with too well, so I always have that underlying incentive most of the time to eat pretty well. Finally, I always try to combine mindful and flexible eating with activity. I know this is a way of eating that has become natural for me, and I will continue to adopt this approach for life.
If you'd like to come to one of my workshops please click HERE for latest topics and dates.
For more information about how I support clients with their weight loss and weight maintenance goals, see 'Services'.